Richards Microfit Stocks, Inc.
Custom Quality Gunstocks Since 1948
1/16" Laminated Birch Gunstocks
Available in 15 Colors!












An Increasingly Popular Alternative to Synthetic Gunstocks!

Our Laminated Gunstocks are Composed of 1/16" Birch Veneers Which Have Been Completely Saturated With Colored Dye, Then Hydraulically Pressed and Bonded Together Using a Superior Resin Adhesive.
This Process Results in a Stock That Is:
| | |
| --- | --- |
| | Extremely Strong |
| | Stable in Changes of Temperature & Humidity Levels |
| | Naturally Beautiful, with the Feel & Warmth of Solid Wood |
Our Laminated Colors Have Been Carefully Selected to Appeal to Sportsmen & Serious Target Shooters. Our Colors Have Proven Their Popularity Over Time By Repeat Sales.
For a Rating Chart #1-10, on How to Choose the Right Color for YOU, CLICK HERE!

Introductory Offers for our New Silhouette Style stocks!
Brown/Brown, Midnight Fire, or Black/Grey Laminate only $149
Royal Camouflage Laminate only $159
Click Here For Details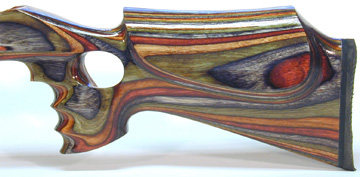 Royal Camouflage Laminate Shown

Black / Grey Laminate
An Elegant Appearance -- Equally as Popular as the Brown Laminate.





Dual Grip Thumbhole

Brown / Brown Laminate
A Walnut Color Laminate -- Popular For Over a Half Century!


Marksman Style with 2 1/2" Forearm


Bench Mark Style with 2 1/2" Forearm


Wildcat Style Thumbhole With Flared Pad (Customer removed schnobble on the tip)

Camouflage Laminate
(Green, Brown, Black)
Popular With Arms Manufacturers -- Standard Mountain Camo Colors





Tigerwood Laminate
(Walnut & Maple)
The Original 2-Color Laminate -- Popular for Over 4 Decades!




Customer Finished--Wildcat Style Thumbhole with Flared Recoil Pad


Customer Finished--Thumbhole Target Style for Ruger 77-17HMR

Royal Camouflage Laminate
(Olive, Rosewood, Smokey Black, Brown)
A Reddish Bark Color Has Been Added to Give a New Twist to Standard Camouflage.



Rollover Style

Desert Sunset Laminate
(Orange, Black, Rust)
A Color Combination of A Desert Sunset and Earth Tones



Wildcat Style Thumbhole

Electric Blue Laminate
(Electric Blue & Black)
Highly Recommended Color! -- A Beautiful Blue Color Tone Set Off By the Black Veneers.




Bench Rest Thumbhole Style


Customer Finished--Straight Line Thumbhole Style with a 2 1/4" Varmint Forearm and a 1/2" Pad installed.

Rosewood Laminate
A Rich Dark Burgundy Color With Darker Highlights - Attractive!



Dual Grip Thumbhole Style with a Decelerator Pad Installed

Imperial Laminate
(Rosewood & Black)
Recommended to Those Looking for Something Different Than the Standard Black or Brown Color



Rollover Style with a Standard Sporter Forearm


This conservative dual color laminate truly enhances & complements a stainless steel barrel & action!
For a more showy laminate, check our gallery for the Electric Blue color---goes great with a stainless setup as well.


Tactical Style with a 2 1/2" Forearm and a 1/2" Pad Installed Stock is for a Ruger 10/22

Midnight Fire Laminate
(Ocean Blues, Rosewood, Smokey Black)
A Bit More Popular Alternative to Red, White & Blue-- With a Black Veneer Substitute



Bench Rest Style



Rollover Style with a Presentation Pad Installed

Apache Gold Laminate
(Yellow Gold, Orange, Brown, Burgundy, and Gemstone Violet)
Rich, Vibrant Colors with a Southwestern Flair







Psychedelic Laminate
(Electric Blue, Violet, Rosewood, Turquoise & Pink)
Has a Fluorescent, Iridescent Glow--Even in Dim Light!--The Name Says it All!
Popular Among Target, Varmint & Bench Rest Enthusiasts






Dual Grip Thumbhole Style with Standard Sporter Forearm

Black Widow Laminate
Vivid Red & Black Colors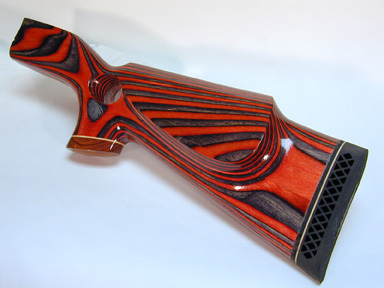 Purple Sapphire Laminate
Rich Purple Hues & Black Accents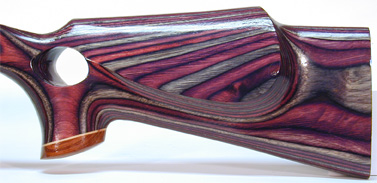 Blue Coral Laminate




Autumn Leaves Laminate



Ultra-Lite Laminate
3/4lb to 1lb Lighter In Weight Than Other Laminates!
Similar Color & Weight Of Western Maple




Unfinished Silhouette Style Shown - Weight = 2lbs!

Rating Scale for Laminated Colors
#1 Being the Most Conservative ------ #10 Being the Flashiest
| | | |
| --- | --- | --- |
| | Conservative Colors | Description |
| #1 | Brown Laminate | A Walnut Color Laminate -- Popular For Over a Half Century! |
| #1-1/2 | Black Laminate | An Elegant Appearance -- Equally as Popular as the Brown. |
| #2 | Imperial Laminate | Recommended to Those Looking for Something Different Than the Standard Black or Brown. |
| #3 | Rosewood Laminate | A Distinguished Looking Laminate -- The Only Other Popular Solid Color Tone Laminate. |
| #4 | Camouflage Laminate | Popular with All of the Arms Manufacturers -- Standard Mountain Camo Color Tones. |
| | Mid-Range Colors | |
| #5 | Tigerwood Laminate | Walnut & Maple Colors -- The Original 2-Color Laminate -- Popular for Over 4 Decades! |
| #6 | Royal Camouflage Laminate | A Reddish Bark Color Has Been Added to Give a New Twist to Standard Camouflage. |
| #7 | Electric Blue Laminate | Highly Recommended Color! -- A Beautiful Blue Color Tone Set Off By the Black Veneers. |
| #8 | Desert Sunset Laminate | A Color Combination of A Desert Sunset and Earth Tones |
| | Flashier Colors | |
| #8-1/2 | Midnight Fire Laminate | A Bit More Popular Alternative to Red, White & Blue -- With a Black Veneer Substitute |
| #9 | Apache Gold Laminate | Rich, Vibrant Colors with a Southwestern Flair. |
| #10 | Psychedelic Laminate | Has a Fluorescent, Iridescent Glow--Even in Dim Light! --- The Name Says it All! |
















Richard's Microfit Stocks, Inc.
PO Box 1066, 8331 San Fernando Rd., Sun Valley, CA 91352
Tel:(818)767-6097, FAX:(818)767-0108
Email: sales@rifle-stocks.com