[ Silhouette ] [ Bench Mark Style ] [ Bench Mark Thumbhole Style ] [ Bench Rest Style ] [ Bench Rest Thumbhole Style ] [ Thumbhole Target Style ] [ Thumbhole Cheekpiece Bench Rest ] [ Prone / Culbertson Style ] [ Precision Style ] [ Precision Thumbhole ] [ Marksman Style ]

"Tac-Driver" Silhouette Style



Shown in Apache Gold Laminate - Ruger 10/22 & .920" Barrel, 99% inlet for a "Press-Fit"

Rim-Fire & Center-Fire Bolt Actions

Pronounced Palm Swell for Greater Comfort & Trigger Control

Hand Conforming Thumbhole Grip With Finger-Grooves

2-1/4" Wide Varmint Forearm Grip For Added Stability & Control

3/8" Vents For Added Heat Dissipation

Available For Right Hand & Left Hand Shooters

You'll really enjoy shooting your rifle when its equipped with one of our New Tack-Driver Silhouette stocks with its custom styling and conforming grip for added comfort and shooter accuracy. The design of the grip was inspired by Offhand European competition air-rifles, while the proper amount of cant and cast-off typical of traditional American rifle designs have been utilized as well. It's really the "Best of Both Worlds!" Designed for use on or off the bench, it comes with a 2-1/4" Wide Forearm, and has a flat palm pad for that offhand shot that counts. The Tack-Driver's dimensions conform to NRA Silhouette rules, and in laminated wood, it weighs the same as other leading thumbhole silhouette stocks on the market. Whether you are a competition shooter or just plinking around, you will be delighted with the Tack-Driver's good looks, comfort & handling, and enhanced scores!

Additional Style Options
These "No Cost" options are available to Mix & Match as you please, with the "Tack-Driver" Silhouette.

"Precision" Forearm

A Modified Forearm With a Sloped "Precisionl Style" Design
"Flat Oval" Forearm

A Modified Forearm With a Flat Bottom Design
"Traditional Cheekpiece" Silhouette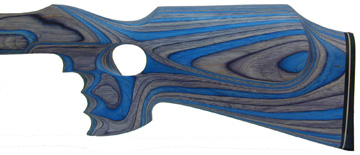 A Modified Cheekpiece with Traditional Styling

How to Price a Stock in this Style:
| | |
| --- | --- |
| | Select a Laminate Color in the pricing tables. |
| | Select any Additional Options / Services or Accessories desired, and add the appropriate price. |
| | Add shipping and applicable sales taxes as outlined below. |
| | Your stock can be inletted for any of the actions listed in our Available Actions Section. CLICK here for the list. There is no extra charge unless specified in the available actions section for rare models. |

LAMINATED WOODS
PLEASE NOTE: Target Style Stocks in Laminated wood are offered at a Flat Rate--No Dealer Discount.


SPECIAL OFFER! 90 DAY SALE: For 10/22 inlets only--$169 Any Color Laminate!
| | |
| --- | --- |
| LAMINATE COLOR | Price |
| Brown / Brown Laminate Introductory Offer! SALE $174 | $184 |
| Black / Grey Laminate Introductory Offer! SALE $174 | $184 |
| New! Improved "Royal Camouflage" Laminate (Olive, Rosewood, Smokey Black, Brown) | $198 |
| Tigerwood Laminate (Walnut & Maple color) | $198 |
| Desert Sunset Laminate (Orange, Black, Rust) | $198 |
| Rosewood Laminate - A Rich Dark Burgundy color with Darker Highlights - Attractive! | $198 |
| Camouflage Laminate (Green, Brown, Black) | $198 |
| Electric Blue Laminate (Electric Blue & Black) | $198 |
| Imperial Laminate (Rosewood & Black) | $198 |
| NEW! Black Widow Laminate (Vivid Red & Black) | $198 |
| NEW! Blue Coral Laminate | $198 |
| NEW! Autumn Leaves / Royal Jackaranda Laminate (Brown, Black, Rosewood) | $198 |
| NEW! Purple Sapphire Laminate (Rich Purple Hues & Black Accents) | $198 |
| Midnight Fire (Ocean Blues, Rosewood, Smokey Black) Nice! | $198 |
| Apache Gold Laminate (Rich, Vibrant Colors with a Southwestern Flair--Yellow Gold, Orange, Burgundy, and Gemstone Violet) | $198 |
| NEW! Yellow-Jacket Laminate (Vivid Yellow & Black) | $198 |
| Psychedelic Laminate (Vivid Pink, Electric Blue, Violet, and Rosewood) FLASHY! Nice Blend! | $198 |
ADDITIONAL OPTIONS / SERVICES
| | |
| --- | --- |
| Left Hand Setup -- For Left Hand Shooters | $19.00 |
| Extra Wood -- We can leave extra wood in any exterior area of the stock (Not Available On Areas Near Inletting) | $19.00 |
ACCESSORIES
Pachmayr , installed ( 13-3/4" pull unless specified otherwise, 14-3/4" Max with 1" Pad)
| | |
| --- | --- |
| Pachmayr 1/2" Rifle Butt Pad installed | $34.00 |
| 1" Field Model Pad installed | $49.00 |
| Presentation Pad installed -- Solid Rubber with Basket Weave Face | $55.00 |
| 1" Decelerator-The Ultimate in recoil reduction, installed. Available in Black Only | $59.00 |
| 1" Uncle Mike's Sling Swivels installed. Available in Blued Metal only. | $29.00 |

Order Now! 1-800-895-7420

We accept payment by Visa, Mastercard, Check, Money Order,
or COD ($11 extra) -- NO COD's over $150

NOTE: If paying by Credit Card, it will be charged when your order is shipped.
Telephone Hours: 8:00am to 5:00pm Pacific Time

Please Have the Following Info. Ready When Placing an Order:
Stock Style

Action Model & Caliber (For some actions we will need the distance between screw holes)

Grade and Species of Hardwood (California Claro Walnut is Standard), OR Laminated Color

Accessories Including Pads, Swivels, or Other Custom Features

Name, Address, Daytime Phone Number, and Payment Info.
Click Here! For Details On Our Complete Finishing Kit! Only $15.99

100% Money Back Guarantee!
If for any reason you feel the merchandise isn't up to your expectations, just specify the reason in writing, and return the stock within 30 days, providing the stock has not been worked on or altered in any way. A full 100% Refund including Shipping Charges will be provided. Your satisfaction is our first and most important consideration.

Sales Tax:
California Residents please add 9% Sales Tax to Order Total.

Dealer Discounts:
A 20% discount applies on all prices except where noted.
Please fax or mail a copy of any of the following: FFL, Business License, or Tax Permit

Shipping & Handling:
$17.50 for the 1st gunstock, Add $5 for each additional gunstock. Orders Shipped to Alaska & Hawaii are subject to additional freight charges.

Production Lead Times:
The AVERAGE Approximate Production Time is currently 6 to 8 weeks. For Custom Setups, Target Style Stocks, or stocks for actions in low demand, please allow approximately 8 to 10 weeks for production - See Available Actions Section for details. (Allow 1 extra week for shipping) For a Complete Discussion of Our Production Times, please see the Common Questions Section of this website.
[ Silhouette ] [ Bench Mark Style ] [ Bench Mark Thumbhole Style ] [ Bench Rest Style ] [ Bench Rest Thumbhole Style ] [ Thumbhole Target Style ] [ Thumbhole Cheekpiece Bench Rest ] [ Prone / Culbertson Style ] [ Tactical Style ] [ Tactical Thumbhole ] [ Marksman Style ]

Richard's Microfit Stocks, Inc.
P.O. Box 1066, 8331 San Fernando Rd., Sun Valley, CA 91352
Tel:(800)895-7420, FAX:(818)767-0108
Email: sales@rifle-stocks.com